Dr. Kieran Dolin

Research Interests:
Publications:

Fiction and the Law: Legal Discourse in Victorian and Modernist Literature Cambridge University Press (1999)
"A Woman's Pleading: Caroline Norton's Pamphlets on Laws for Women in Nineteenth-Century England" Australian Feminist Law Journal 10 (1998) 51-60
"Farrago for Australia: Law, Power and Textuality in Three Novels by Nicholas Hasluck", Journal of Commonwealth Literature 33 (1998) 113-24. "Freedom, Uncertainty and Diversity: the Critique of Imperialist Law in A Passage to India," Texas Studies in Literature and Language 36 (1994), 328-352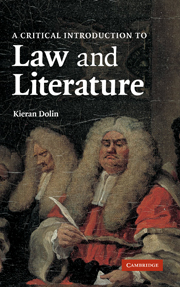 A Critical Introduction to Law and Literature (2007)
Kieran Dolin
University of Western Australia, Perth
·
Law and literature have been closely linked fields throughout history. Linguistic creativity is central to the law, with literary modes such as narrative and metaphor infiltrating legal texts. Equally, legal norms of good and bad conduct are reflected or subverted in literature's engagement with questions of law and justice. Kieran Dolin introduces this interdisciplinary field and charts the history of the shifting relations between the two disciplines, from the open affiliation between literature and law in the sixteenth-century Inns of Court to the less visible links of contemporary culture. Each chapter is organised around close analysis of a famous trial or literary-legal encounter. The wide resonance of such trials illuminates the cultural centrality of law, and the social responsiveness of literature. This book provides an accessible guide to one of the most exciting areas of interdisciplinary scholarship today.
• A historical study which connects changes in law with changes in culture
• Includes a chapter on post-colonial literature and law
• Covers the impact of laws such as censorship on literature as well as the literary qualities of legal texts
Preface; Introduction: law and literature: walking the boundary with Robert Frost and the Supreme Court; Part I. Eminent Domains: The Text of the Law and the Law of the Text: 1. Law's language; 2. Literature under the law; Part II. Law and Literature in History: 3. Renaissance Humanism and the new culture of contract; 4. Crime and punishment in the eighteenth century; 5. The woman question in Victorian England; 6. The Common Law and the ache of modernism; 7. Rumpole in Africa: law, literature and post-colonial society; 8. Race and representation in contemporary America; Conclusion; Bibliography.
---
Añadir comentario acerca de esta página: